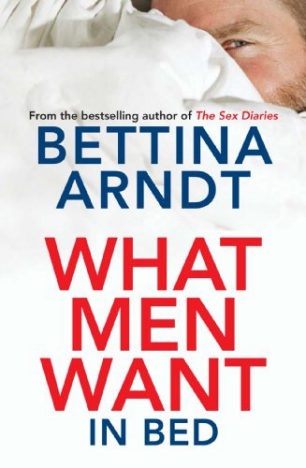 When The Sex Diaries was published, Bettina was swamped with messages from men, grateful to hear their story told. One man told her he listened to her descriptions of the male diaries sitting in the car with tears rolling down his cheeks, so happy to know that so many other men were struggling with the same problems.
Here's a typical letter:
My husband and I could be the poster couple for your latest book, The Sex Diaries. In desperation to find a way forward, and having heard you on the radio, I gave him your book for Christmas. For him it was a revelation as for what I think is the first time he realised that he was not alone. Reading the book validated how he had been feeling. He had assumed that either he was going mad or that he was significantly over supplied with testosterone. For me it gave me much greater insight into male sexuality. It also helped me to appreciate that our problems are not unique and that I need to be much more open/direct in my communication, regardless of the result.
The result was What Men Want – in bed which lifts the lid on men's longings, frustrations, their fears and intense joy in making love.
So many people were astonished to hear male voices speaking so openly and passionately about what sex was like for them. The result was Bettina recruited another 150 men and many of their partners to write more diaries about what it is like to live with that constant sparkling sexual energy – relentless, uncontrollable, all-consuming.
The heart of What Men Want is about erections – how men are coping in The Age of Viagra. With every second man over fifty dealing with erection problems kamagra jelly, Bettina has always been very passionate about  men having proper access to the wonderful erectile dysfunction treatments now available. That's why she chose to launch What Men Want talking about this subject to the National Press Club – quite a change from the press gallery's normal topics! Watch her talk here
Listen to  Bettina talking to Richard Fidler on the Conversation Hour about What Men Want.
Reviews
"If I were a middle-aged man afflicted with erectile dysfunction or premature ejaculation, or if I were an older man with prostate cancer wondering which treatment to pursue, I'd appreciate the squeamish-making information contained in this book." Canberra Times, September 28.

"Arndt deals with both the mechanics and the emotions of sexuality. Her tone is frank, sympathetic and conversational; it's easy to read. She's one of those figures you either love or hate—and I suspect readers' responses to the book will depend on which camp they fall into." Bookseller & Publisher 2010.